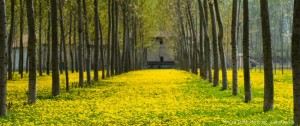 Allergy Season is already here! Sunny skies, drier and warmer temperatures in some areas of the country allow plants and trees to bloom earlier releasing an abundant amount of pollen for the natural process of propagation. Southern California is one of those areas that are experiencing early allergy season. "Cedar fever" in some areas of Texas will be affecting thousands of people soon.
According to the Asthma and Allergy Foundation of America, 40 million Americans suffer from symptoms of seasonal allergic rhinitis commonly known as hay fever.
Pollen irritates the mucous membrane tissues in our eyes, nasal/sinus pathways and oral cavity causing itchy eyes, nose and throat, sneezing, post nasal drip, cough, fatigue and in more severe cases, asthmatic reactions.
There are many natural remedies for children and adults that work surprisingly well to relieve allergy symptoms from outdoor seasonal inhalants.
Here are a few supplements to add to your natural remedy emergency kit that can be easily found at your local health food store or holistic pharmacy.
Using these remedies individually or in combination may help alleviate your or your child's symptoms and also prevent future reactions.
Vitamin C: an essential nutrient, which help modulate the immune system and reduce inflammation
Quercetin: a powerful bioflavinoid found in fruits and vegetables that prevents immune cells from releasing histamines
Stinging Nettles: Nettle leaf extract contains compounds that reduce inflammation and histamine production.
Bromelain: a natural enzyme from pineapple and an effective anti- inflammatory when taken on an empty stomach.
Black Currant (Ribes Nigrum) Gemmotherapy: Gemmotherapy formulas are plant stem cell extracts from buds and shoots of organic plants. Extremely powerful in minute doses, black currant extract is known as the "natural cortisone" to help alleviate inflammation and allergic symptoms.
Omega-3 Fatty Acids: an optimal anti-inflammatory supplement when taken regularly with meals
Pycnogenol: A study (June 2010) by Dale Wilson et al, in Phytotherapy Research concluded that pycnogenol (pine bark extract) taken 5 weeks prior to allergy season improved allergic rhinitis symptoms. This super anti-oxidant can reduce symptoms of inflammation, runny nose and itchy eyes.
Homeopathic Lymph Drainage cream: helps drain and open the lymphatic system of the head and neck to remove metabolic waste and secretions, ultimately alleviating nasal congestion, runny nose and postnasal drip.
Other helpful tips:
Reduce common food sensitivities that can increase histamine and mucus production such as dairy, yeast, sugar and soy.
Keep windows closed during the seasonal months of March through June and from September to October.
Invest in a whole house air filtration system or a HEPA air purifier for your child's room (do not use a negative ionizer, not as effective in collecting pollen and particulates and some models may release ozone into the air).
Leave the "fresh air vent" in your car closed and turn on the "recirculating air" button to prevent pollen, dust and smog from entering in.
Windy days can exacerbate or trigger allergies, have play dates inside with board games and art projects instead.
Teach your child to blow his or her nose effectively and apply un-petroleum jelly around the nostrils to prevent redness and chafing.
Rinse nasal passages with a mild saline solution using a nasal rinse pot (neti pot) after work or school and outdoor activities.
Wipe down your loving pets with a damp paper towel to remove the pollen and particulates from their coats before re-entering your home.
Although allergy remedies are necessary at appropriate times, prevention and lifestyle change is key for a healthy family all year round.


https://drsusanne.com/wp-content/uploads/2014/01/Screen-Shot-2014-01-30-at-8.51.54-AM.png
456
1112
Dr Susanne
https://drsusanne.com/wp-content/uploads/2018/04/logo-sample-300x100.png
Dr Susanne
2015-04-26 08:54:22
2015-05-02 16:56:05
Natural Allergy Survival Kit!