Dr. Susanne Bennett is an internationally recognized natural and integrative medicine expert with over 27 years of clinical experience in the fields of allergies, clinical nutrition, methylgenetics and anti-aging medicine.
She's is a fifth generation Korean herbalist and one of the country's leading natural allergy specialists. She's the founder of the Wellness for Life Center in Santa Monica, California.
She's the author of #1 International Best Seller, Mighty Mito- Power Up Your Mitochondria for Boundless Energy, Laser Sharp Mental Focus and a Powerful Vibrant Body and The 7 Day Allergy Makeover.
Dr. Susanne is also the CEO and Founder of PURIGENEX, a skin care company dedicated to creating non-invasive products and cutting edge formulations to help prevent premature skin aging, rejuvenate and restore optimal skin health. Her philosophy is that "healthy skin leads to better health."
Dr. Susanne hosts the "Wellness For Life" radio show on RadioMD and iHeart Radio and is devoted to sharing the best health strategies and providing easy to implement tips to improve your life and start feeling better today, the all-natural way.
She frequently speaks to professional and consumer audiences nationwide. She's been featured in numerous publications and media outlets, including Marie Claire, US Magazine, Woman's World Magazine, OK! Magazine, American Spa Magazine, Fox News, and CBN TV. She's a major contributor for The Natural Child World Magazine and the Huffington Post.
To inquire about booking Dr. Susanne, please email dr@drsusanne.com.
---
Giving Back
Dr. Susanne is passionate about ocean conservation and other environmental sustainability issues.
Proceeds from drsusanne.com go towards funding the Natural Resources Defense Council (NRDC), Ocean Conservancy, and Nature Conservancy.
Dr. Susanne is an active supporter of the Natural Resources Defense Council (NRDC) and serves as the Ocean Conservancy's international coastal cleanup coordinator for Baja, Mexico.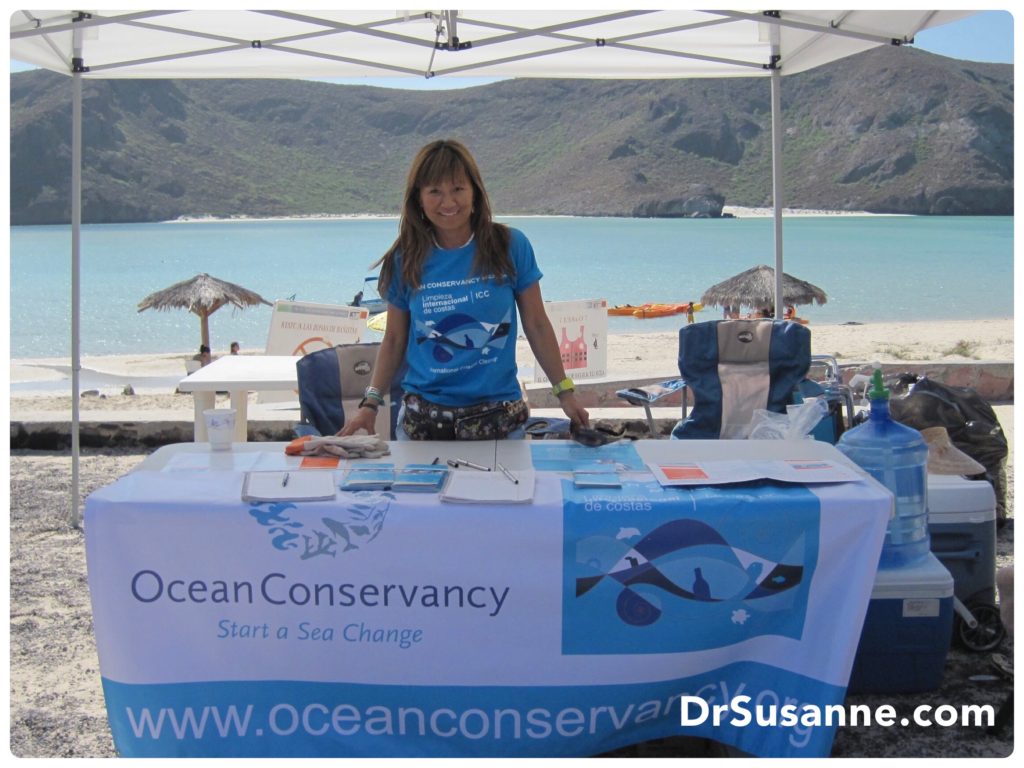 Dr. Susanne has long served as the Baja Head Coordinator for beach clean ups with Ocean Conservancy.
She brought hundreds of the local children and adults to clean up Balandra Beach,
considered one of the most beautiful beaches in all of Mexico and the world!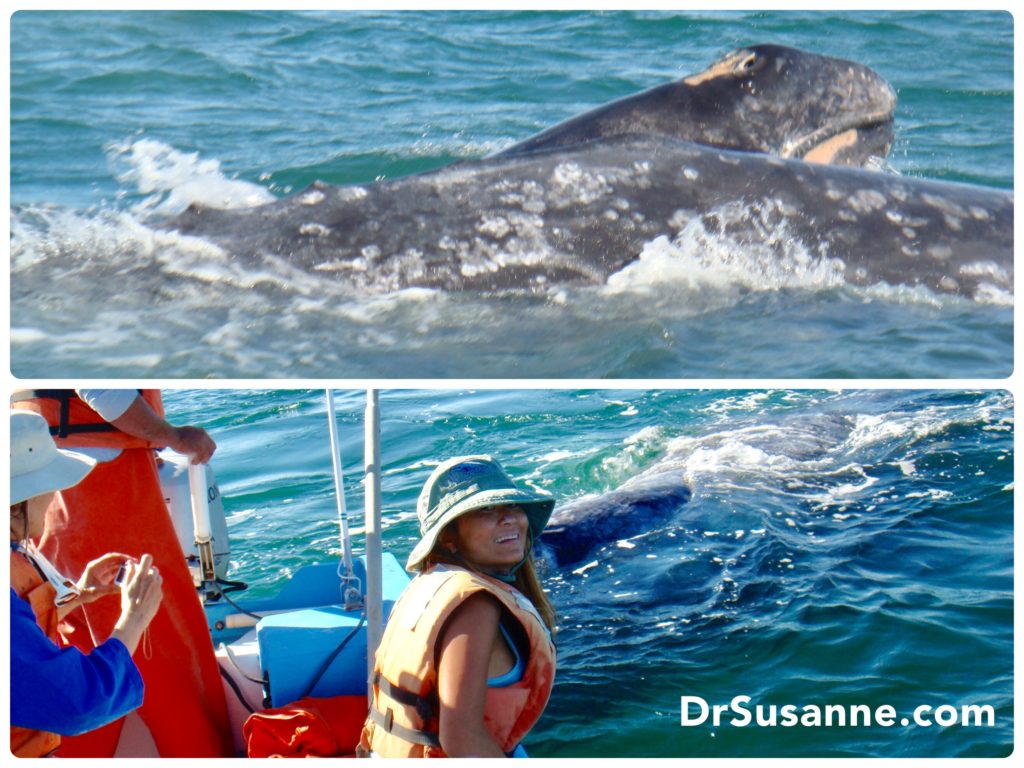 Dr. Susanne at the San Ignacio Laguna with the NRDC Executive Director and 16 other scientists and advocates
learning more about the gray whale natural nursery and how to improve the conservation of the area.
One of the best experiences of her life!
---
Please make sure you receive your Free Gift at the bottom of this page.
How it all started
For the last twenty-two years, I have been dedicated to helping people restore their body's naturally healthy state so that they can live the best life possible. My mission is to ensure that no one lets their allergies hold them back from being a happy and productive person.
But treating allergies was not always my calling. I earned a Bachelor of Science degree from UCLA majoring in Kinesiology, followed by a Doctorate in Chiropractic Medicine. For many years, I had a fulfilling career as a Chiropractic Sports Physician. It was the birth of my son, Cody, that changed everything.
The nightmare begins
Cody was a perfectly happy, healthy baby – for the first four months of his life. Then something inexplicable happened. His skin showed signs of allergic reactions everywhere, including hives and rashes. When he caught a cold or a virus his breathing became difficult and would escalate into an extreme respiratory distressed state. He was allergic to most foods babies were allowed to eat and would again break out with hives, experience a swelling of the eyes, face and throat or even severe asthmatic reactions. We even carried an epinephrine pen with us at all times, just in case of an anaphylactic reaction.
That first year, I honestly feared he was going to die.
I lived in a constant state of panic. We tried drugs, breathing treatments and creams, doctor after doctor, but nothing worked. Like any mother, I read countless books, cleaned constantly, tried every sensible remedy I could think of. Still nothing worked.
The Breakthrough
As part of my effort to help Cody, I wanted to learn everything possible on allergies and I was accepted to attend the Post Graduate Allergy Program offered by the American Academy of Environmental Medicine that was only open to medical doctors who wanted to specialize in allergies and learn how the environment can contribute to poor health.
But the real breakthrough came when one of the speakers from the course — Dr. Doris Rapp, considered "the queen of pediatric environemental medicine" — suggested that I take my son to see Devi S. Nambudripad, a chiropractor as well as an acupuncturist, who specialized in natural healing. Somewhat skeptical, but willing to try anything to help my son, I decided to give it a shot.
The results changed my son's life — and my life — forever.
The Healing Process
Dr. Devi was warm and gentle — there was something different about her from many of the other doctors I had encountered. She helped Cody feel comfortable and at ease being in her office.
Dr. Devi suggested one of her NAET bioenergetic treatments — a gentle, needle-free procedure based on the principles of acupuncture — as well as some dietary and lifestyle changes to help relieve my son's allergies.
The results were amazing. After just one bioenergetic treatment for egg, within hours my son immediately felt better. Dr Devi knew that I was a chiropractor and she suggested that I attend her classes to learn NAET, Nambudripad Allergy Elimination Technique. I was excited to be able treat my own son and be part of his recovery. I took the course that same weekend and I immediately started treating him. Within weeks of the NAET treatments – Cody's allergic symptoms had cleared noticeably. His asthmatic symptoms subsided first, his constant nasal congestion and runny nose dried up, and finally his skin healed and was beautiful, with a healthy glow. He was finally able to eat many foods that used to give him severe reactions and he went on to become a healthy, vibrant child, living an allergy-free life.
My Transformation
After seeing the power of natural treatment first-hand, I understood that this was my calling in life: to blend my scientific background with alternative healing practices and help people lead happy, fulfilling lives.
I soon became certified by leading organizations, not only in Dr. Nambudripad's NAET bioenergetic treatment, but nine other alternative therapies. In my practice, I have adapted and transformed these techniques for natural healing, developing new ways of healing allergies and restoring the body's vitality.
Since that time, I have helped thousands of patients who thought their allergies would never go away to feel healthy and fully alive again. I have also been published in numerous magazines and online periodicals and am grateful to be considered one of the nation's leading natural allergy specialists.
I am also the author of the book The 7-Day Allergy Makeover, which provides a step-by-step program for making the lifestyle changes that can help you find immediate, drug-free allergy relief.
But most importantly, I am grateful for the ongoing health and happiness of my patients who have made the choice to feel better and help their restore its innate ability to heal. My testimonials page is a testament to their struggles — and triumphs.
Congratulations on making the choice to heal yourself and return to the life you want. If there's anything I can do to help you in that quest, please do not hesitate to email me or contact me at 310 315 1514.

I would like to give you a Free Gift to welcome you. You can click on the image below to receive instant access.