Raphael Kellman, MD

The Microbiome Diet
Positive Psychology: Optimize Your Microbiome & Rid Yourself of Depression
Link Between Gut Health and Thyroid Dysfunction
Dr. Raphael Kellman, MD, author of The Microbiome Diet, is a pioneer in functional medicine who has a holistic and visionary approach to healing. In 17 years of practice, he has treated more than 40,000 patients, many of whom have come to him from all over the world and after suffering without help for years.
Dr. Kellman is driven by his desire to alleviate suffering and to help people regain health based on a new vision and understanding of healing and the causes of disease. As a doctor trained in internal medicine at the Albert Einstein College of Medicine in New York, Dr. Kellman uses the latest drugs and technology to treat specific diseases but his approach to medicine is patient- centered and holistic. He focuses on the complex interaction of systems — not just the disease but on you as a whole person who is greater than the sum of your parts.
Dr. Kellman's treatments are informed by his background in the philosophy of science, and administered with compassion and kindness. Drawing on the latest research, he addresses your biochemistry, metabolism, hormones, genetics, environment, emotions, and life circumstances to help you achieve optimal health. Dr. Kellman attended received post-graduate training in internal medicine at Beth Israel Hospital, Lenox Hill Hospital, and St. John's Hospital, and conducted Cancer research at Sloan Kettering Memorial Hospital. He serves as Holistic Medical Director for Health Check in Bay Ridge, and Queens, and Medical Director for the New York Center for Addiction Treatment Services. He is also the author of three books included, The Microbiome Diet, Gut Reactions, and Matrix Healing.
---
Liza H. Leal, MD, DAAPM
Living Well with Chronic Pain
Living Well with Chronic Pain
Drug-Free Methods for Overcoming Chronic Pain
Dr. Liza Leal knows first-hand the devastation of chronic pain and that restoration IS possible.
While in medical school she developed rheumatoid arthritis, causing her to be wheelchair bound, potentially derailing her medical career. Dr. Leal inspires while educating and motivating her patients and audiences to succeed in living as a thriver and not a survivor.
Dr. Liza Leal knows something about pain, both professionally and personally as a patient. Dr. Liza lives with rheumatoid arthritis, a chronic, aching inflammation of the joints. Her personal experiences provide a unique perspective that strengthens her professional commitment to treat patients with compassion, understanding and education.
Leal began experiencing searing, persistent leg pain during her junior year of medical school. She completed medical school and began her residency—in a wheelchair. Today, Leal is out of the wheelchair—thanks to her unique comprehensive approach to pain management, which lead her to the understanding how opioid dependence is misunderstood by many in healthcare. Her passion is to bridge the education gap, evoke conversation between healthcare providers and pharmaceutical industry to help build long-term relationships through caring conversation.
Leal is the Chief Medical Officer and co-founder of Meridian Medical Dental Healthcare. As a family physician, Leal offers patients a comprehensive range of services of integrated medicine. She is well known for her development of training webinars and was featured in the Bronze Opus Award "On the Road to Joint Pain Relief" as the medical expert in the 30-minute infomercial. She has developed specialized training for sales representatives for pharmaceutical companies including Searle, Pfizer, Ligand, Organon and Cephalon. Currently she is the spokesperson for the international infomercials for Aloecure and Aloederma.
---
Nature's Secrets with Dr. Susanne Bennett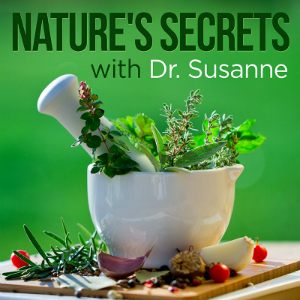 On this episode, an encore:  Can You Relieve Anxiety Naturally?
Nature's Secrets: Can You Relieve Anxiety Naturally?
https://drsusanne.com/wp-content/uploads/2015/10/Fotosearch_k11315043.jpg
585
598
Dr Susanne
https://drsusanne.com/wp-content/uploads/2018/04/logo-sample-300x100.png
Dr Susanne
2015-10-12 10:25:29
2015-10-23 22:39:31
#79 Microbiome and Living with Chronic Pain