Dia Michels

Breastfeeding Awareness Week
Breastfeeding Myths & Facts
Tips for Breastfeeding Success
Dia is an award-winning internationally published science and parenting writer. She has written, coauthored or edited over a dozen books. Her titles include Milk, Money & Madness: The Culture and Politics of Breastfeeding; Breastfeeding Facts for Fathers; If My Mom Were A Platypus Mammal Babies and their Mothers, and 101 Things Everyone Should Know About Science. Dia is founder and president of two  independent presses in Washington, DC — Platypus Media, and Science, Naturally! A popular speaker, she appears regularly healthcare, parenting and education conferences. She also teaches classes at children's, natural history and science museums and leads professional development workshops for teachers. Dia lives in Washington, DC, with her husband and their three children. 
---
Christopher Hobbs, PhD, LAc

Herbal Remedies
Top 3 Herbs for Women's Health
Plastic: Bad for the Planet, Bad for the Body
Dr. Christopher Hobbs, is an internationally renowned herbalist, licensed acupuncturist and botanist, has been formulating market leading natural supplements exclusively for Rainbow Light® since 1985. With more than 35 years of clinical experience in herbal medicine, Hobbs has authored 25 books, including Herbal Remedies for Dummies and Women's Herbs, Women's Health. He shares his knowledge of herbal medicine with consumers and educators all over the world through lectures, and utilized his expertise in this field to found the Institute for Natural Products Research. He also serves as a consultant to the herb industry.
---
Nature's Secrets with Dr. Susanne Bennett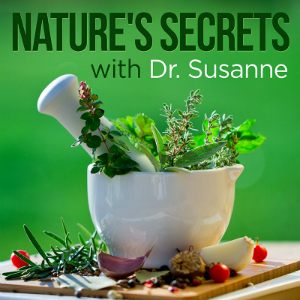 On this Episode: Dr. Susanne's 5 All-Time Favorite Herbal Remedies
Nature's Secrets: Dr. Susanne's 5 All-Time Favorite Herbal Remedies
Oregano Oil: #1 Anti-microbial agent that can save your life
EGCg: The Anti-Aging Antioxidant
Glucomannan: Trumps black charcoal in absorbing toxins
Rhodiola Rosea: King of Adaptogens
Berberine: The Queen of Hearts (heart health & lowers LDL)
https://drsusanne.com/wp-content/uploads/2015/08/Fotosearch_k6125909.jpg
483
724
Dr Susanne
https://drsusanne.com/wp-content/uploads/2018/04/logo-sample-300x100.png
Dr Susanne
2015-08-12 18:18:12
2015-08-15 12:37:43
#71 Breastfeeding Awareness and Herbal Remedies