Dr. Peter Osborne

No Grain, No Pain
No Grain, No Pain: Beyond the Effects of Gluten

Go Grain-Free and Eliminate Your Pain in 30 Days
Dr. Peter Osborne is the clinical director of Origins Healthcare Center in Sugar Land, TX (just southwest of Houston). He is a doctor of chiropractic medicine and a Board Certified Clinical Nutritionist. He is an expert in orthomolecular and functional medicine. He has been practicing since 2001. His clinical focus is the holistic natural treatment of chronic degenerative diseases with a primary focus on gluten sensitivity and food allergies. Dr. Osborne has helped thousands of patients recover from mysterious medical illnesses.
Doctor Osborne received his doctorate from Texas Chiropractic College. He has held faculty teaching positions at Texas Women's University and HCC's nursing program teaching Neurophysiology, Nutrition, Biology, and Anatomy & Physiology. He lectures nationally to doctors on the topics of gluten sensitivity/intolerance, celiac disease, drug induced nutritional deficiencies, and many other nutritionally related topics. He is the co-founder of Nutra-MD, a nutritional supplement product line that addresses nutrient deficiencies caused by commonly prescribed medications. He is the host for the radio program Alternatives for Health & Wellness and the Executive Secretary for the American Clinical Board of Nutrition.
Dr. Osborne founded Gluten Free Society in 2010 to help educate patients and physicians on the far reaching effects of gluten sensitivity. He is the author of Glutenology, a series of books designed to help educate the world about gluten.
---
Lynda McGuirk
Surviving & Thriving After Traumatic Brain Injury (TBI)
Survive & Thrive: Traumatic Brain Injury Survival Guide

Traumatic Brain Injury: More than Just Brain Related Challenges
Lynda McGuirk is an entrepreneur and owner of McGuirk Management Small Business Organization Service. In January 2003, McGuirk spent six weeks in a coma, as a result of an automobile accident. That was the easy part. When she woke up, the real work began and she faced a long rehabilitation program. In 2010 she completed her Master's Degree in Hospitality Administration from the University of Massachusetts, Amherst. Today, McGuirk is a successful entrepreneur and author of the new book, Survive and Thrive: My Traumatic Brain Injury Survival Guide. Like millions of traumatic brain injury (TBI) survivors, McGuirk relearned how to live and was able to re-channel her life and business goals into a new, satisfying lifestyle.
Her dream is to open a retreat in Belize for TBI survivors and their families.
---
Nature's Secrets with Dr. Susanne Bennett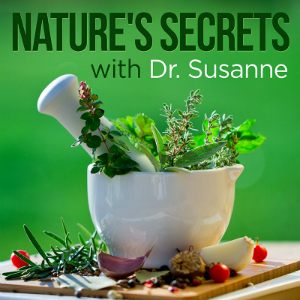 On this episode:
It's Cold and Flu Season! Be Prepared, Naturally!
Nature's Secrets: Natural Cures for Cold and Flu
https://drsusanne.com/wp-content/uploads/2015/10/Fotosearch_k21011598.jpg
591
591
Dr Susanne
https://drsusanne.com/wp-content/uploads/2018/04/logo-sample-300x100.png
Dr Susanne
2015-10-26 17:13:40
2015-11-09 13:28:23
#81 No Grain, No Pain & Surviving Traumatic Brain Injury